6 Blades Portable Blender Bottle Travel USB Electric Juicer Cup Machine Electric
Why buy?
We all know that life can be hectic all day long. At times it's even hard to find the time to grab something to eat or drink!
Now you can use our Portable Bottle Travel Blender to make easy, delicious and fresh smoothies, shakes and juices while you're on the go.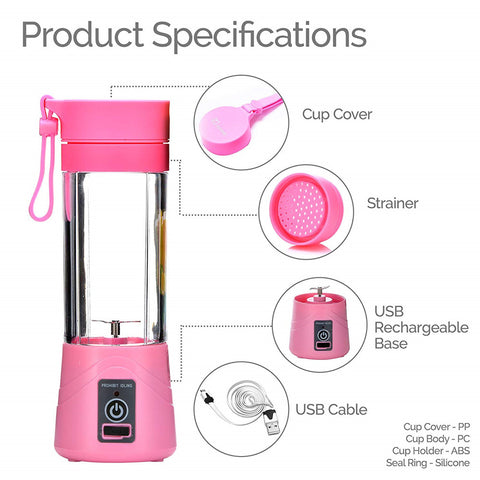 To be able to relish a delicious protein shake with no lumps and smooth texture is convenience. Use Portable USB Juicer for pre-workout smoothies and post-workout protein shakes.
The Portable Bottle Blender makes the perfect gift for mommies, athletes, and workout enthusiasts! 
The bottle blender is USB rechargeable, which means it's easy for you to power it up wherever you are!
Small but mighty powerful: This powerful battery-operated blender can produce 10-12 cups per charge. Simply charge via USB port 2-3 hours before initial use, then add your ingredients and power-on for a tasty smoothie or shake in 90 seconds.

Simple and safe to use: Single-button operation makes this portable blender quick and easy to use. Built-in safety features prevent overheating and also ensure that the unit will not operate if components are improperly assembled.

Durable and built to last: Made from high-quality BPA free and food grade materials, featuring a durable 6-point 304 stainless steel blender blade and 2000mAh battery powering a 3.7V motor, this powerful smoothie blender is not a toy.

Goes wherever you go: This compact lightweight blender is ideal for tucking into a gym bag, briefcase or purse so you always have a healthy option wherever you are. At 3 x 3 x 9 inches, this cordless travel blender is easy to store when not in use.

Portable and Multi-functional: This smoothie blender can crush ice, frozen fruits, seeds, stem, vegetable very well, and get delicious silky smoothies shakes all in 20 seconds. Its very portable for traveling, camping, fishing etc outdoor.
Make the Portable Bottle Blender your own personal portable blending tool, today!