Waterproof Dog Shock Training Collar Rechargeable LCD Remote Control 330 Yards
Why buy?
【3 TRAINING MODES TRAINING COLLAR】- DUX DUCIS electronic dog training collar provides 3 extremely efficient and safe training modes (beep, vibration and shock modes) for you to teach a dog basic obedience commands and solve an uncontrollable dog's behaviour problems.The dog training collar is easy to learn and quick operate.

【SAFE AND RELIABLE TRAINING COLLAR】-Considerable circuit design with strong safe protective chips inside dog training collar,you could get rid of guilty that makes your lovely pets shocked by unexpected high level shock operation. Now with the DUX DUCIS Remote Dog Shock Collar, your pupy will get safe and protective training and you could have confidence and comfortable training performance.

【330YARDS TRAINING COLLAR】 FOR REMOTE-Wireless control for up to 330 yards remote range.Enjoy happy training time with your pet in park or in your backyard! The receiver on dog`s body could get your instruction within 1200FT circle zone.

【Waterproof & Rechargeable Receiver】100% waterproof dog training collar receivers; Rechargeable transmitter and receiver can be charged at the same time, but avoid leaving the collar on the dog for more than 12 hours per day.

IPX7 Waterproof and Quick Charging: The receiver of the collar is fully waterproof, it works well even if immersed in water, so your dog can wear it when bathing and swimming. Both the receiver and the remote are rechargeable, and they can charge at the same time. After 4 hours rapid charging, the electric dog collar with remote is able to offer about a week usage
WARNING
Not for aggressive dogs.
Do not use this product to attempt to correct the behavior of dogs that are aggressive to other people or animals. Aggressive dogs may associate training collar stimulation with other control stimulus and become more aggressive.
Aggressive behavior should be corrected by a dog training specialist. If you are unsure of whether this product is appropriate for your dog, please consult your veterinarian or a certified trainer. 
The Bark Stop Collar should only be used on healthy dogs and is not intended for dogs less than 6 months old.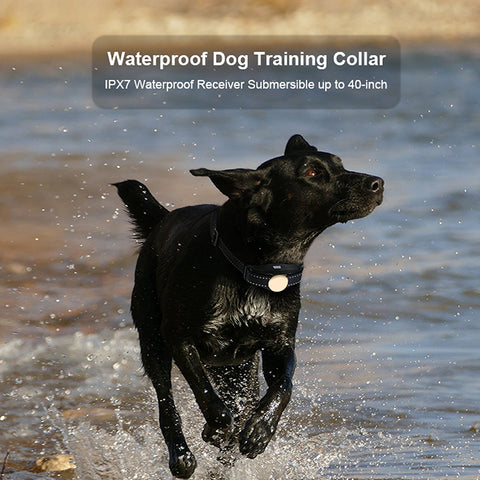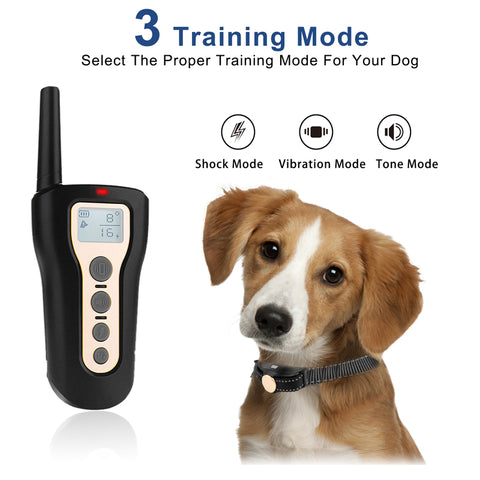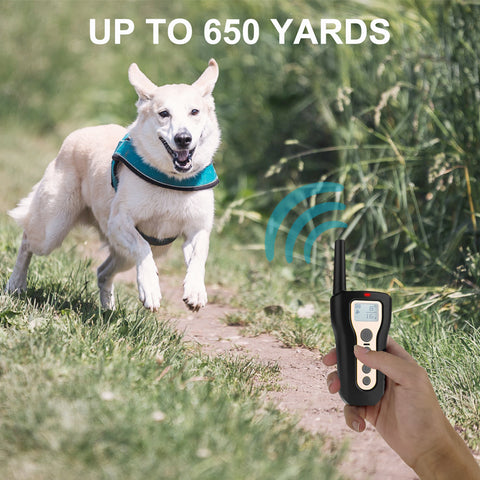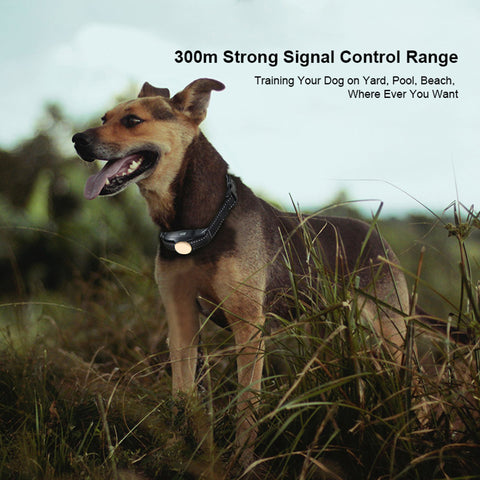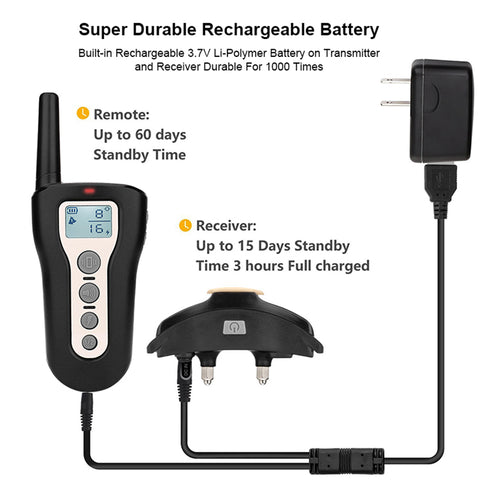 Features
The maximum control distance can reach 300 meters.
16 stall, 8 gear vibration can be adjusted separately, independent static electricity, vibration and sound keys.
Controller with white back-light LCD.
Power saving function, rechargeable design, 2 hours fast charge, standby time longer.
Increase receiver support while training 2 dogs. If necessary, please take a pair of two.
This dog trainer has power management, code function, memory function and waterproof function. (The waterproof receiver works well after being immersed in water for 3 hours at a depth of 1 meter without penetrating water)
The remote controller shuts down the LCD automatically after the specified time (30 seconds) without pressing key.
Display of battery power of remote controller: Display current power information by LCD LCD battery power information, insufficient battery power, through LCD LCD battery frame flashing display to remind.
The receiver automatically hibernates without receiving the instruction for a specified time (300 seconds), and wakes up from the hibernation state by shaking the switch or pressing the button.
When the receiver has insufficient power, it can be alerted by means of quick flashing of indicator light.
Specifications
Model:P-collar 320A
Color:black
Texture of material:ABS
Power supply mode:Lithium battery rechargeable power supply
Waterproof: remote control rain proof, receiver full waterproof.
Adapter plug:US/UK/EU/AU
Waterproof dog shock training collar
Fabulous product ! I have a young stubborn GSD and this collar works a treat, in a very short time he is under control and I'm a happy relaxed dog mum
Waterproof dog training collar
Best one available in the price space ,dogs behaving himself very quickly,dont need a leash anymore great service ,communication,and most importantly they will stand by this product,3 friends with dogs purchased this specific waterproof
Dog training collar
Pretty good
Collar is very large and I have to to use tape to keep the end from hitting my pugs face.
It is effective though. Just using the noise button stops my dog from jumping
Absolutely amazing!
I've tried other training collars but this one out performs all of them. I managed to train 2 dogs at the same time using only the sound in 3 days? No longer do I have dogs that bark at their own shadows at night. Delivery and service were faultless. Thank you for saving my sanity!