Dog Training Collar , Waterproof 100 Levels Adjustable Beep/Vibration/Shock Bark Collar for Small Medium Large Dog
Why buy?
3200 FT Control and IPX6 Waterproof: Electronic collars can handle your rowdiest adventures—from the park next door and badlands out west, to the Florida wetlands, including snow and rain,with long a 3200 FT wireless control range.

Bark Collar & Training Collar 2 in 1 : Bark Mode helps your dog learn how to stop barking without your participation; Training Mode providing beep, static shock and vibration modes designed to teach your dog to understand your intentions(100 levels adjustable).

Amazing Battery Life: Rapid charger that charge the receiver and the controller at the same time, it only takes 2-3 hours to fully charge.The battery life is exceptional and lasts for nearly 50 days! LED lights and reflective collar great for dark environment.

Dog Shock Collar with Remote:Train up to 3 dogs using the same remote; Adjustable collar design is perfect to accommodate small to large dogs (15lbs〜100lbs); The security keypad lock prevents any misoperation on the remote. Feel free to carry the remote without worrying about the accidental shock.

What You Get: 1* Dog Training Collar with remote, 1* lanyard, 4*Set of Probs, 4* Soft silicone contact points, 1*Test Bulb, 1*USB Cable; Customer friendly 1-year warranty; If you have any questions, welcome to contact our amazing customer service.
Are you still worried about finding a suitable dog training device?
Say YES to the high quality training collar with remote control, 1000 yard remote range, long life rechargeable battery.Ciconira professional dog training collar is perfect dog training option for trainer and pets.Enjoy happy training time.
IPX6 Waterproof

The receiver is IPX6. Training collar receiver works doesn't need to be taken off when your dog goes for chases toys around a pool, or plays in the rain.This also means that you can train your dog in different weather conditions.

Super Safe Protection Mode

he security keypad lock is the features of dog shock collar. It protects your dog from unintentional manipulation.

3 Modes: Beep, Vibration, Shock

Shock Collar for dogs provides 3 extremely efficient and safe training modes beep, vibration and shock modes.Both the vibration and shock modes have levels that range from 0 to 100 and they are both used for personalised training. Effective for you to teach your dog basic obedience commands and solve an uncontrollable dog's behavior problems.
Long Life Rechargeable Battery

After 2-hour fully charging, no exceed 8 hours of use every days,the receiver can last for more than 50 days and remote has up to 20 days.

3 Memory Settings

Ciconira Dog Training Collar with remote supports maximum 3 dogs training with only 1 remote transmitter. Just a flick of button, you can switch a dog channel (dog1/dog2/dog3).

1000 Yards Long Remote Range

The antenna that we offer has a very advanced design , maximum remote range up to 1000 Yards inthe open area without any interference. It flexible enough to work for indoor training in your backyard or outdoor hiking with your dog or in the park.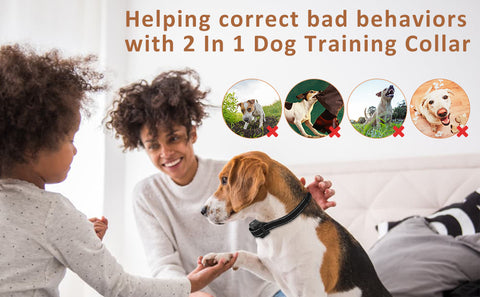 Cautions
1.Avoid leaving the collar on the dog for more than 8 hours per day;
2.do not charge the battery for more than 3 hours;
3.Check the fit to avoid excessive pressure;
4.Package include the usb charging cable, without the power adapter;
5.Do not use on puppies younger than 6 months;
6.If a RASH or SORE is found, DISCONTINUE use of the collar until the skin has healed;
7.Please thoroughly read user guide.